Laiba is an Eight-grade student at Beaconhouse School who has to pay Rs. 17,000 monthly as her school fee, a late submission would cost her further Rs. 500. Her younger brother Yazaan, a student of grade 4, pays Rs. 22,000 to the same school every month. Their 3rd and elder sister Noor who has just been promoted to A Level will start paying Rs. 40,000 in the coming month as her monthly fee has increased insanely.
Their father, Abdul Qayyum who belongs to a middle-class family, undergoes this trauma for earmarking Rs. 80,000 every month that goes straight into the pockets of private school mafia in the name of tuition fee. His tension further grows when he has to pay the home-tutor fee, transportation expenses, books etc. Ever since he started the education of his children, he has seen a 1,600% fee hike.
This is not limited to Beaconhouse only, Asad ul Azim faces a similar situation when he pays nearly 40,000 as tuition fee every month to Lacas School for his two children.
Abdul Qayyum has seen 1600% fee hike ever since he started educating his children
They are among thousands of parents who are feeling this heat which is killing them as they additionally bear the burden of the price hike for daily commodities and huge taxes that our governments keeping putting every now and then.
After hundreds of failed attempts to capture the attention of policymakers in Pakistan over the years, these parents have resorted to street protests in hope that the new PTI government and the Chief Justice of Pakistan would take the action to address their grievances.
To keep the voices silent, these private schools of likes Beacon house, Lacas, Bahria School, City School, and hundreds of others, keep pressurizing these parents by mistreating their children at school. Many parents have their children struck out of the schools because of raising the voice. However, the movement has taken the momentum in all the big cities of Pakistan where parents have come up with their demands.
They gather at different places holding the placards and chant slogans against the untouchable private school mafia. They do this in hope that someone would listen to them.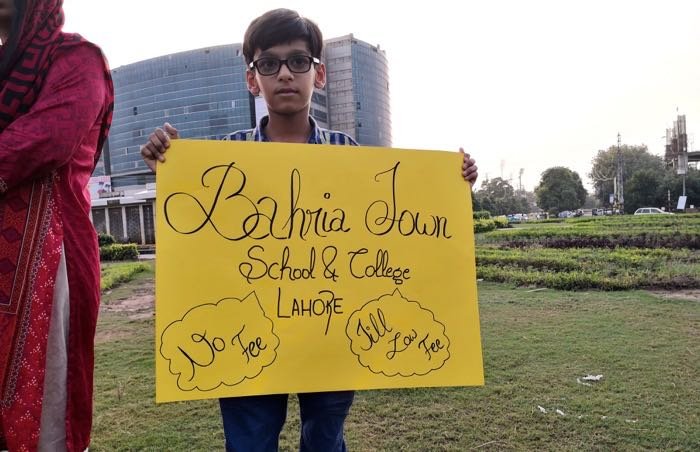 In a recent meeting with Dr. Murad Raas, Education Minister (Punjab), some three hundred parents tried to seek his attention to address the issue, but the voice wasn't loud enough to convince the minister.
"After that meeting, I am consistently trying to access him through emails and Twitter to remind him of the promise he made with us but he (Murad Raas) never responds", told Amber, a mother, and a protestor.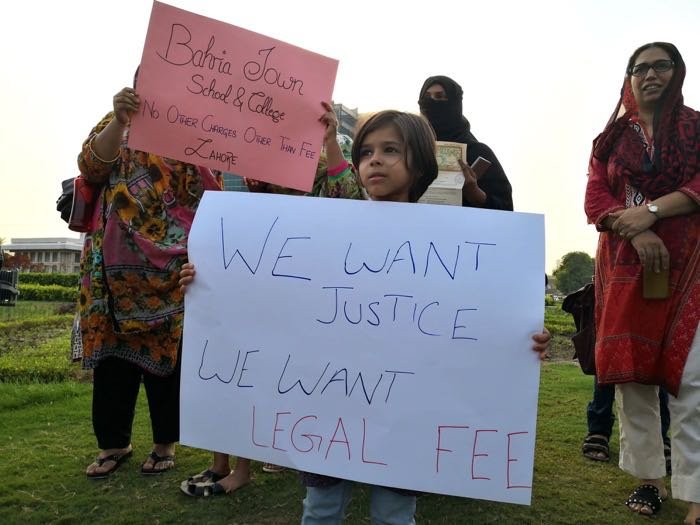 What The Parents Demand?
At a recent protest at the Liberty Chowk Lahore, they came up with their following demands.
Defining clear rules and regulations for private schools and implementation of laws, rules, and regulation already existing in the light of article 25-A of the constitution of Pakistan (1973) and Punjab Free and Compulsory Education Act, 2014

Formation of Regulatory Authority for having check and balance on private schools.

Approval of fee structure of private schools by a regulatory body

Immediate action by education ministry on the application submitted by parents of private schools in meeting dated September 13th, 2018 with education minister Dr. Murad Raas.

Audit of last five years of all private schools of having a fair calculation of their profitability before the decision of Supreme Court Petitions on Private Schools matter.

Collection of data of private schools students for purpose of decision making by Supreme Court of Pakistan. The decision by the government and the court should base on rational data instead of assumptions provided by schools.

Upgrading and extension of schools like DPS/ Cresent Model/ Punjab School for flopping agenda of private school mafia and formation of Model Schools by the government following standards/curriculum of above-mentioned schools.

Implementation of the Lahore High Court decision of W.P.No.29724/2015 dated 05/04/2018.

Immediate attention of the government is requested to look into the matter of student harassment for non-payment of fee & expelling students for non-payment of the fee.