Chief Minister Punjab Shehbaz Sharif has launched the Metro feeder buses in Lahore that would connect the 27 Km long  Lahore Metro Bus track to the rest of the parts in the city.
200 new air-conditioned buses operating under the Punjab Metro Bus Authority (PMA) would connect the parts of the city with Metro bus stations. Buses are equipped with modern surveillance system along with e-ticketing procedure.
Here are the key features of Metro Feeder Buses
The buses would cover the 14 routes, span over a distance of 130 Km.
There is an automatic fare collection system.
The buses will arrive after every 10 minutes.
The buses also feature automated announcement, door sensors, ramp for specially challenged persons along with modern surveillance system with the help of modern security cameras.
There is a total of 28 seats in the buses; nine are for women while 19 are for men. The buses have overall capacity to accommodate 80 passengers; rest would have to stand like passengers normally do on the metro bus.
Buses would operate between 6 AM to 11 PM.
Following are the routes on which Metro Feeder Buses would operate.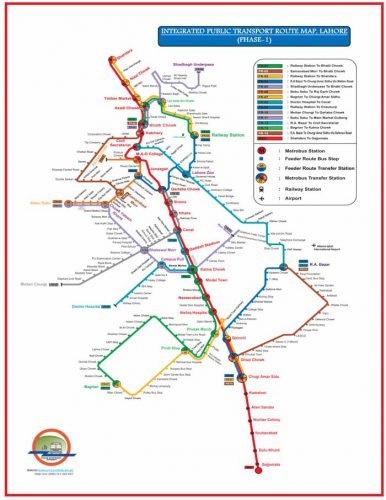 Here is how the automatic Fare System in Metro Feeder Buses would work
1. There is no token system, for the feeder buses, a card that can be used from inside of Bus or Metro Bus Terminal would be used to pay the fare.
2. The card bought from inside the bus costs 200 Rs with 70 Rs as balance while one from Metro Bus station can be purchased in 130 Rs only if one wishes not to includes the balance.
3. Feeder bus charges a flat rate of 15 Rs only. Upon entering passenger has to scan his card that would deduct 20 Rs, to refund the 5 Rs, he would have to rescan the card upon leaving.
4. Passengers transferring from Feeder to Feeder buses would have to pay 5 Rs additional.
5. No additional fare would be charged for passengers transferring from feeder to Metro bus for this transfer would have to be made within 30 minutes.