How much water is left at my disposal for my personal needs? This is the most pertinent question today for a single Pakistani who still cannot judge what kind of water crisis in Pakistan people will face in the next five years.
The IMF report suggests that Pakistan's per capita water availability is 1,017 cubic meters, whereas it was 1500 cubic meters in 2009. In the coming years, it will further deplete to 1000 cubic meters.
By the way, one cubic meter of water is equal to 1000 liters. So 1000 cubic meters means 1 million liters. And if you further scrutinize the 1000 liters of water, a general global perception makes it equivalent to;
3,300 cup teas

28 showers

13 baths

Flushing the toilet more than 100 times
An IMF report says Pakistan is in the number three position in the list of countries that face acute water shortages. And there are also reports from the United Nations Development Programme (UNDP) and Pakistan Council of Research in Water Resources (PCRWR), which reveal similar statistics.
By 2025 Pakistan will reach a level of absolute water scarcity. This wouldn't only hit the south's deserts but also the North as well that is known for snow-filled mountains and more than 5000 glaciers, Neil Buhne, UN Humanitarian Coordinator for Pakistan, describes in the report.
The situation is further expected to worsen by 2040 when Pakistan might become the most water-stressed country in the region.
These warnings don't come out as a sudden revelation, but the national and international organizations have been alerting Pakistani governments for decades.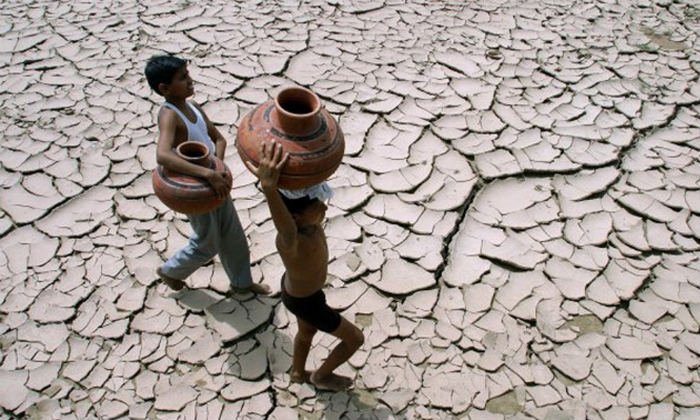 A 2016 report by PCRWR highlights that Pakistan had already touched the water stress line in 1990, and by 2005, it had crossed the red area, i.e., "water scarcity line." Today in 2019, the situation has far more worsened.
A World Economic Forum report mentions water as a significant threat for Pakistan, followed by inflation, terrorism, and unplanned urbanization.
Such a horrific picture gave rise to a national debate on the water more recently in 2018, and the issue was hammered again and again in the media after the Chief Justice of Pakistan followed by the PTI government took notice of the matter and started a crowdsourcing campaign for the construction of Bhasha dam. Pakistanis living abroad and here have responded positively to the cause, and by January 31, 2019, the joint fundraising account of Apex Court and Government of Pakistan has accumulated Rs. 9,714,508,498.
Understanding The Water Scarcity
According to the Un-Water, a United Nations agency that coordinate with UN countries on water and sanitation issues describes water scarcity as the physical shortage of water supply, shortage of water due to inadequate infrastructure or the scarcity of water due to the failure of government organization in providing adequate water supply in a particular region.
The Fallenmark formula suggests that water availability under 1000 cubic meters/capita/ year limits the population's economic growth and health, where Pakistan already stands at this moment. It's a real constraint to life when it goes under the 500 cubic meters threshold, calling it an "absolute scarcity."
His study references Israel for this conclusion, where dynamics of water availability, population, usage pattern, and consumption areas are entirely different from Pakistan.
Pakistan, among the most water-wasting countries
The global studies rank Pakistan at number 4th among the most water-consuming countries. Being an agriculture-dependent country, Pakistan hugely relies on its canal network. Water is highly underpriced to the extent that not more than a quarter of the annual operational and maintenance cost is recovered.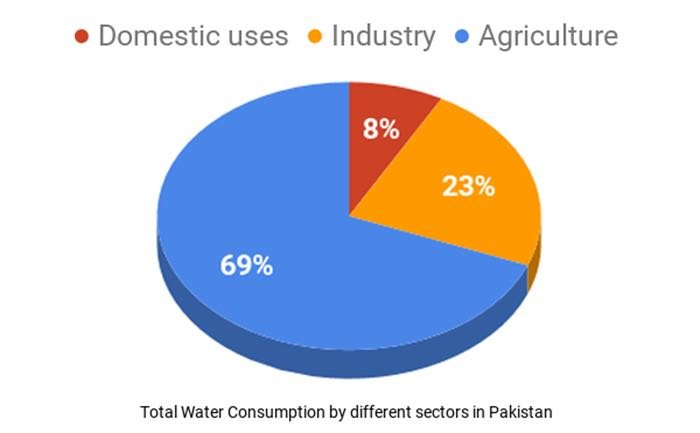 Out of total demand in Pakistan, nearly 90% of the water is consumed by agriculture and industry. Our main supply line of the Indus Basin originates from the Mount Kailash range in Tibet that runs into the Arabian Sea.
Other than the international water controversy with India, political differences among provinces, lack of seriousness from the governments in the center don't allow us to build additional large-scale reservoirs along the route, which only results in the wastage of precious water every year.
Pakistan receives around 145 million acre-feet of water every year but only saves 13.7 million acre-feet in its fragile storage system.
Dependence on only a few national dams, including Tarbela and Mangla, which have lost their original capacities of water storage ever since their inception, can a single Bhasha dam help us store water for all our needs is still a question?
The obsolete canal network, water theft by influentials to their farmlands, unplanned and gigantic urbanization, deforestation under the nose of policymakers, and domestic water abuse only add fuel to the fire.
Domestic water abuse
All major metropolitan cities of Pakistan, including Lahore and Karachi, have the least drinkable water availability. Half a century-old water supply lines to most urban areas are rusty and cracked, allowing sewerage water to seep into the drinking water lines in many old parts of the cities.
Lack of awareness among the people about the water crisis in Pakistan also shows massive helplessness on our part.
At homes, we still don't get frightened to waste water while washing our garage, cars even the gates, every day.
Taps run freely, losing hundreds of liters every day in a house.
One of the primary reasons for such irresponsible behavior is the costing mechanism.
In contrast to electricity, the monthly charges for water supply are extremely nominal, making it almost a useless commodity in consumers' eyes.
A recent ban from the Lahore High Court on washing cars at homes using the hose pipes couldn't bring fruits. Even a prior court order to only allow registered service stations to operate that will use water recycling facility hasn't been implemented.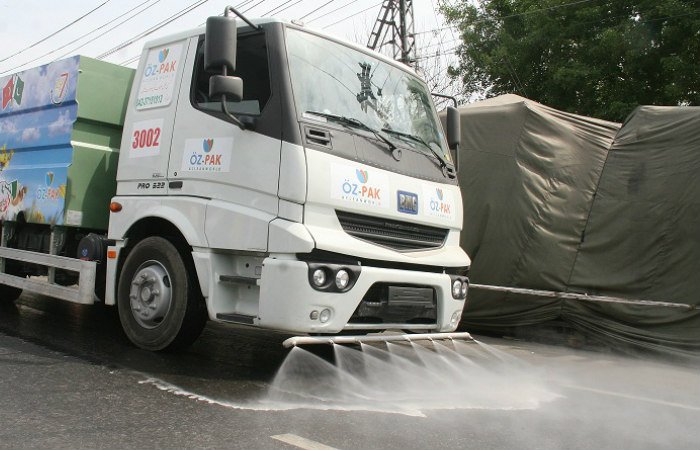 Not only it happens in our homes, but the civic institutions also turn a blind eye. It was recently revealed during a court hearing that Lahore Waste Management Company washes the Lahore city roads with drinkable water wasting some 30,500 liters every day.
There is hardly an effort from previous governments in the past 50 years to organize the water consumption and supply line.
Un-Water also believes there is no global water shortage globally; it is the lackluster performances of individual countries and their inabilities that endanger their survival.
If the situation in Pakistan isn't handled from the very core, it will jeopardize not only the lives of average Pakistanis but also an economic meltdown that could be witnessed in the country.