Any road can be dangerous if traffic rules are ignored, but some roads can frighten the hell out of you due to their difficult terrain.
If you are an adventure-loving person, and also a properly trained and experienced driver or a rider, you have found yourself a perfect place. Take a look at these scariest and most dangerous roads of Pakistan.
Fairy Meadow Track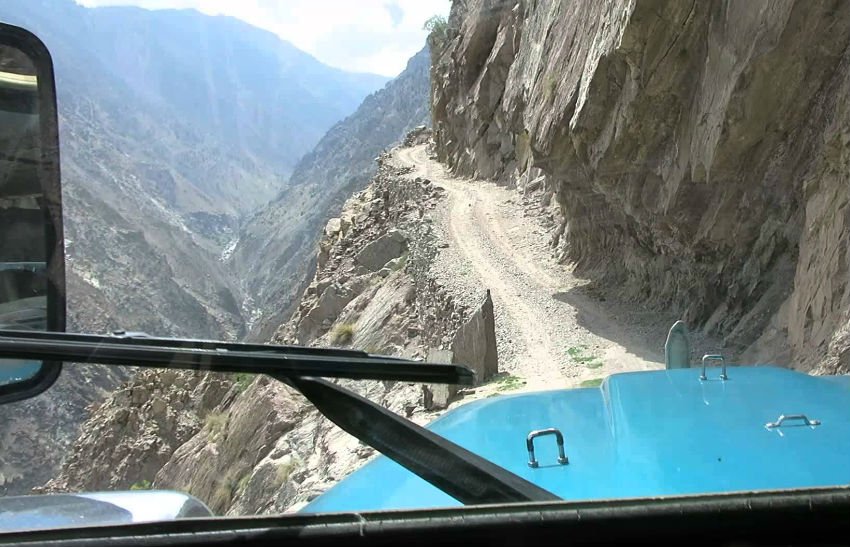 Picturesque Fairy Meadow Road leads to Tatu Village starting from Raikot. It's an unpaved road, hindered by the elevation and rugged terrain and demands much care while driving. It's certainly breathtaking, and it has a fearsome reputation. It still remains an adrenaline-pumping journey and is definitely not for the faint of lungs, heart, or legs.
It's one of the most dangerous roads which even featured in international magazines because of its international exposure as mountaineers travel through this road to get to the base camp of Nanga Parbat, world's ninth highest peak.
You need an SUV vehicle to travel on this road, but we never recommend this as it is better to hire a jeep from Raikot as the local drivers know the track well and have needed experience. It is the scariest road with only two to three points where jeeps can cross each other or return.
Shimshal Valley Road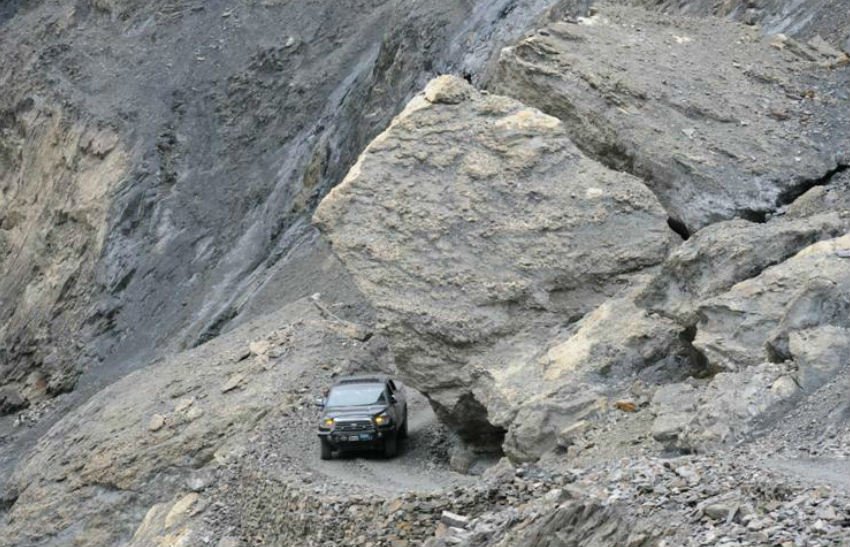 The Shimshal Valley Road is located in Gojal, Hunza-Nagar District and links the Karakoram Highway at Passu with Shimshal, the highest, cut-off settlement in Hunza Valley of Pakistan. It's a spectacular, terrific, curvy mountainous, one of the most dangerous roads which rarely permit speeds over 10km/h.
The stretch is 56 km long and demands some serious, attentive driving on this road. This insane road has humbled many egos and shouldn't be attempted by novice drivers.
It's incredibly disorienting to look over the edge, or even just to see the valleys thousands of feet below you. It's a mind-numbing vertical drop of hundreds of meters with no guard-rails so you might want to give it a miss on a windy day.
The village was inaccessible by motor road until October 2003 when this new road was constructed. The construction of non-metallic Jeep-able road started in 1985 and completed in 2003. Before the road was built, one had to cross 3 high passes (about 5000m), and it used to take 3 days to reach Shimshal.
Expect hundreds of turns (with several hairpin turns). The journey runs along the fearsome gorges of the Shimshal River, a gigantic canyon at the height of over 2000m, have to cross some scary wooden bridges.
Jalkhad-Sharda Road(Noori Top)
It's 48.7 km long road which ascends to Noori Top, a high mountain peak at an elevation of 3.959m (12,988ft) above the sea level. It links Jalkhad (in Naran Valley) and Sharda (in Kashmir Valley).
The road to the summit is simply terrifying. The surface is gravel and very steep. It's a narrow road full of hairpin bends. You gain height at every step turn, more wilderness is added by mud, gravels, and water streams.
Drivers must remain cautious as the pass has been known to claim the lives of careless drivers. At many points, the track is so narrow, that only one vehicle can go, and in case of a vehicle coming from the opposite side, then one has to stop at a widened patch so other can go first making it one of the most dangerous roads.
The track is open from July to September only. The road to the summit was built by the Pakistan Army during the Kargil War in 1998 and was under the use of Pak Army during the war. Now, this pass and top are used as a tourist spot.
It's a 4×4 track. Drive with care as this is a mountain road with dangerous drop-offs. The top offers marvelous views of Kargil Mountains and Kashmir on one side, and Naran Valley on the other side.
Shounter Valley Road
Shounter Pass is a high mountain pass at an elevation of 4,420m (14,501ft) above the sea level, in Neelum Valley, Azad Kashmir.
The pass is accessible only a few months of the year due to heavy snow and harsh weather.
To drive this trail, you must have supreme confidence in your vehicle and your driving skills. It can be accessed through a jeep track from Kel which only gets opened for a few months of the year. The valley possesses scenic beauty, panoramic views, towering hills on both sides of the noisy Neelam river, lush green forests, enchanting streams, and attractive surroundings.
The road condition is not well and only suitable for 4 wheelers. In winters road onward Keran gets block due to heavy snowfall, and it is challenging to reach upper parts of the valley.
Gilgit Skardu Road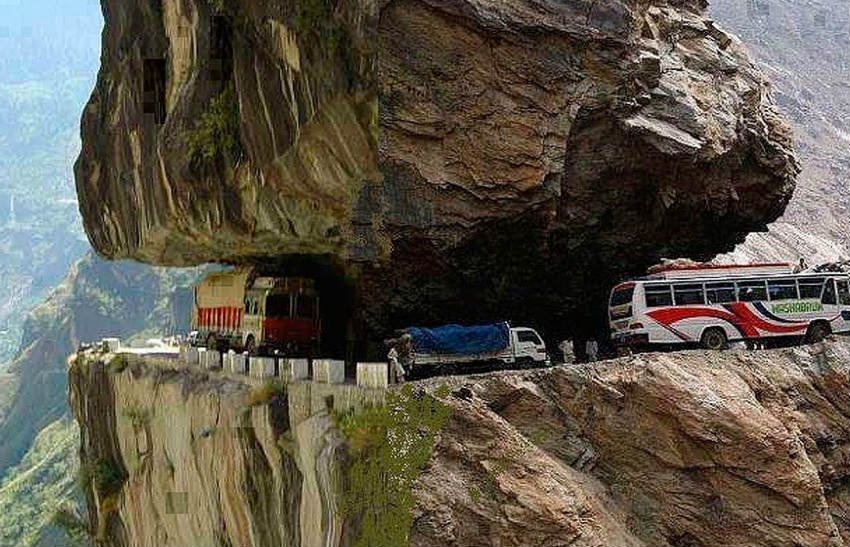 The road is 167 km long and called Strategic Highway 1 (S-1). It starts on the Karakoram Highway, in Gilgit, at an elevation of 1,500m (4,900ft) above the sea level. It ends in Skardu at an elevation of 2,226m (7,303ft) above the sea level.
The road runs along the River Indus. It's an all-weather road but is one of the most dangerous roads due to poor bridges and land sliding. Gilgit-Skardu road is significant for the tourist and also a strategic point of view.
The road is winding, in some places only wide enough for one vehicle, and many places bordered by a drop of hundreds of meters (many hundreds of feet) unprotected by guardrails. The condition of the road nowadays is very dangerous as most parts of the road needs re-construction that is the reason we included it in our list of most dangerous roads.
The drive is 8 hours. The road can be blocked for weeks at a time depending on conditions (though two to five days is more normal). You can view many beautiful villages, large suspension bridges, and valleys on this road.
Babusar Pass Road
Babusar Pass Road is among those roads that look easy to drive on but in reality possess dangers that's why we have included it in our compilation of most dangerous roads.
Babusar Pass is a high mountain pass at an elevation of 4.173m (13,691ft) above the sea level. It is the highest point in the Kaghan Valley, KPK. The pass connects the Kaghan Valley with Chilas on the Karakoram Highway.
It's one of the famous roads with dangerous curvy bends. While descending the road, extra care is needed, don't use brakes more often and use the engine braking technique that is travel in lower gears.
From the middle of July up to the end of September, the road beyond Naran is open right up to Babusar Pass. The Kaghan Valley is at its best during summer (months ranging from May to September); however, the movement is restricted during the monsoon and winter seasons, but it can be closed anytime.