Apart from the scenic beauty and rich cultural heritage, Swat valley offers another feast to the tourists, the Trout fish of the Swat River. The valley known as the Switzerland of Asia has great attraction for the tourists, who enjoy the cool breeze, thick forests, high peak mountains, gushing water, lakes, and waterfall in the summer season. However, the valley has more to offer food lovers as the delicious trout fish attracts tourists in droves.
Trout species were the hottest cake served for tourists and locals in Swat. However, the devastating flood in 2010 resulting from heavy monsoon rains played havoc with the fish nurseries, and rivers took the species away from the city. Apart from one hatchery, the rest went empty of fishes and eggs. This led to the biggest gap between supply and demand and also affected the price.
According to the United Nations Food and Agriculture Organization (FAO), The State of World Fisheries and Aquaculture (SOFIA) 2016 report, the global export value of fish trade was $148 billion in 2014. Interestingly, 54% of seafood export originates from developing countries, and its worth for their economy is much higher than the combined value of rice, coffee, sugar, and tea. They not only earn valuable foreign exchange reserves but also create millions of job opportunities for their people. Roughly 12% of the world's population rely on the fisheries and seafood industry for their jobs and livelihood.
In Pakistan, we have not been able to capitalize on the available development and growth opportunities entirely. A country with over 1000 KM coastline, beautiful lakes, and flowing rivers, Pakistan could have earned much better than what it is making today. According to Pakistan Fisheries Export Association, we are exporting roughly $350 million worth of seafood that mostly consists of raw material. Due to illegal (net fishing) and overfishing, we are losing our competitiveness and have to import $40 million worth of fish annually.
On the consumption side, there has been steady growth. UN Food and Agriculture Organization estimates that seafood consumption has increased by 21% in the last two decades. This medium indicates a bright future with prospects of growth, provided we can work on the right track.
It is not that the government is doing nothing; there are some projects at the federal and provincial levels that are aiming at the promotion of aquaculture. However, their scale and level of engagement is not ideal and need large-scale attention. Two such projects are running in Swat and Mirpur, Azad Kashmir. Since our article is about Trout, we will specifically stick to mentioning these projects because they are working on trout production.
The same was the case with Mirpur Fish Hatchery, which has remained abandoned for 15 years. Fisheries Development Board of Pakistan took the matter up and rehabilitated the hatchery under a project titled "Aquaculture and Shrimp Farming."
One small site is located at Taobutt (Sharda, Azad Kashmir), which the OP Team visited to learn about the fish, the best practices, and industry problems.
The most exciting thing about Trout Fish is that it requires minus degrees Celsius temperature to flourish and live. If the outside temperature goes above 13 degrees celsius, it dies.
The farm manager told us that they had produced roughly 250,000 – 300,000 trout fishes during the last three years.
As a standard procedure, they bring in and keep the Trout on the farm. With time, when they hatch eggs and breed fingerlings, the baby fish is taken away to a separate fishpond. Once matured, they are released into the river Neelum. The process has been designed to grow the natural production of species. A fish typically lays around 1200 to 2000 eggs, which can lead to mass production of trout fish in the country if properly taken care of. However, floods and illegal fishing pose a danger to trout breeding in Pakistan.
There is currently a ban on the fishing of Trout in the area; however, the government will start issuing the license by the year 2018.
One of the challenges for the Trout fish is illegal fishing. A fishery official told, "blast fishing or catching via the net are the most dangerous practices and a serious threat to the breeding process. People exercise it since trout fishing is very challenging, and this way, it is easier; however, they must know that it is illegal. When you use the net or the explosive, it destroys eggs and even captures baby fishes that ultimately endangers the species."
The UN report also endorses overfishing and illegal fishing. Looking at the Indian Ocean and our gulf stream, it appears the fishing practices in Pakistan, India, and Bangladesh have endangered certain species. This is another point where government and relevant fisheries departments need to work; educate farmers and fishers about the best practices and safe methods of fishing.
Which species exist in Pakistan?
In the past, most fish farmers stocked their ponds only with indigenous species such as catla (Catla), rohu (Labeo rohita), mrigal (Cirrhinus mrigala), and common carp (Cyprinus carpio). However, Fisheries Department has introduced two fast-growing species, the grass carp (Ctenopharyngodon idellus) and silver carp (Hypophthalmichthys molitrix), to increase yield per unit area. Both have gained popularity in producers as well as consumer circles.
When it comes to Trout fish, there are two types of Trout that we see in KPK and AJK, brown trout (Salmo trutta) and the other one is rainbow trout (Oncorhynchus mykiss). If we can bring in more species and introduce new tastes to the market, the industry can grow even in a better place; however, it has to be a calculated decision.
How Trout fish reached in this region?
The fascinating history of fishing in our Kashmir and Northern Areas goes back to South Asia's British era as written by researchers.
At the end of the 19th century, the British introduced trout fish in Kashmir, a gesture in return for a gift by Kashmir's Maharaja that he presented to the Duke of Bedford.
In return, the Duke sent about 10,000 trout eggs, which arrived from the U.K in 1899, but this batch of Trout could not survive.
In the next December, the Duke sent a shipment of ova, which included 1800 fry ova, and they arrived in comparatively better condition. Many people set out fisheries and hatcheries in Kashmir, Naran, and other chilly areas in later years.
It was probably 1923 when trout fish was successfully introduced and made available in Kashmir, Kagan, Gilgit, Swat, and some parts of today's India. British remained actively involved in angling, particularly during their holidays in Northern Areas and Kashmir.
They introduced brown Trout and few new flavors to the locals that are still available in Swat.
Three main rivers, Neelum, Sindh, and Jhelum (Lidder), have been the principal sources of Trout, though the fish was introduced in some lakes as well. Interestingly, the mountainous areas have been the very source of fish breeding – starting from Kashmir to Swat, Naran, and Gilgit. They have been the most favorite products of tourists and mountain climbers, who find it delicious and a source of energy.
Trout fishing can be a tremendous economic development source for the locals of these areas. Due to every year's floods, the angling and hatchery business has severely been affected; the government needs to invest resources on dedicated farms and safe nurseries to breed such species. Some departments are working on some real projects like the one we covered here, but we need a more coherent approach to developing our local seafood industry.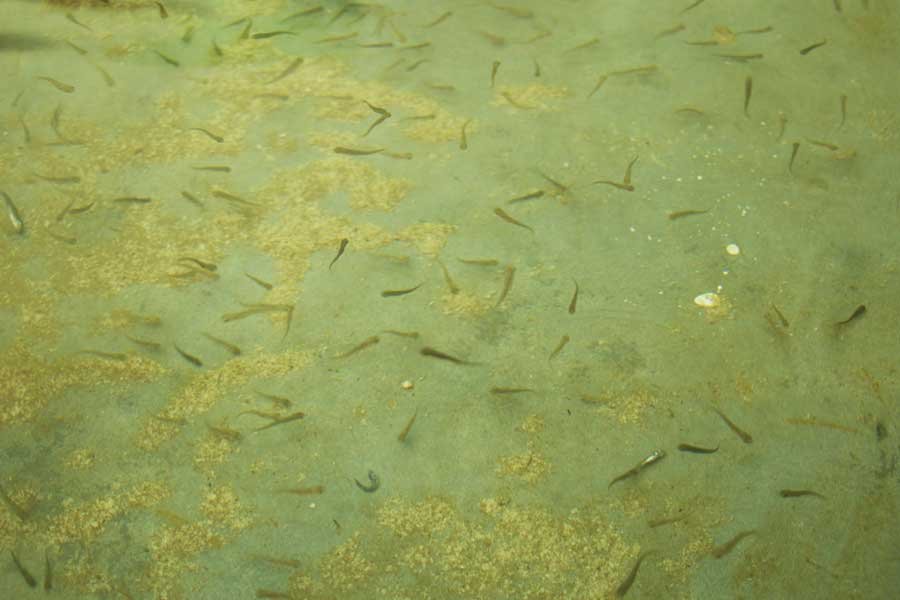 If we can establish a healthy industry, it can undoubtedly provide jobs to thousands of people in local areas and bring valuable foreign reserves. The $148 billion global seafood export is too big to ignore, significantly when our neighboring countries are also earning billions of dollars via exports.