Are you looking for a unique dining out experience that would make you feel in a quiet natural countryside environment? If so then Lahore's Panj Vehra desi restaurant in Barkat Market is your way.
Just imagine yourself sitting under the shady trees, relaxing on the charpaies (typical Punjabi woven beds) and feasting upon the desi food while being in a village-like venue located in the heart of Lahore.
You wouldn't have to endure a fake- sounding artificial experience that usually high-class restaurants have to provide in the name of customer service. Just feel that you are visiting a far-off village which is so captivating due to its magical, serene surroundings and your generous guests are ready to serve you with their unique offerings you can't find anywhere else.
This desi restaurant looks like a Museum used for preserving the Punjabi culture, but one with ticket- free entry.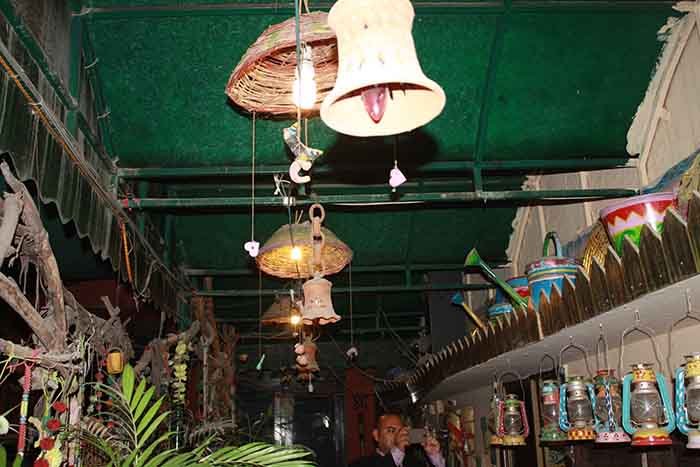 It represents a complete picture of how a traditional Punjabi home in a far off village looks like.
Horse driven cabs were a prominent part of Punjabi homes, so a wheel in courtyard used to be quite a usual sight.
When it come to managing daily use items, aesthetics never took a back seat. The fact is evident from this near ceiling shelf with wooden-cutwork that is filled with clay pots and pitchers. The sight would mesmerize you.
This is the look courtyard of Panj Vehra restaurant presents.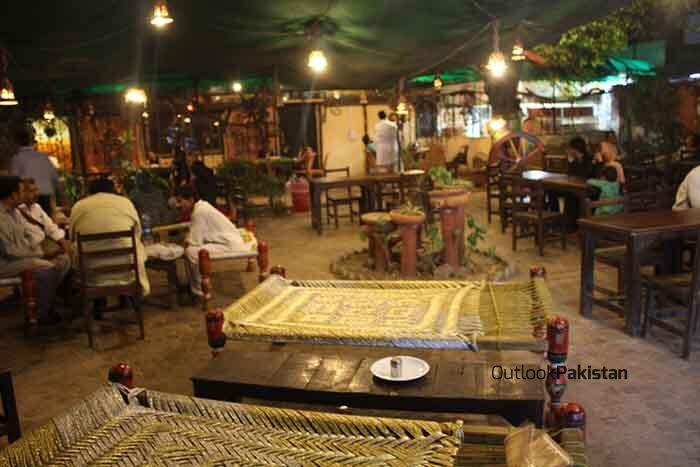 These Laltains (Oil Lamps) hanging under the shelves marked an important household item in the traditional Punjabi village.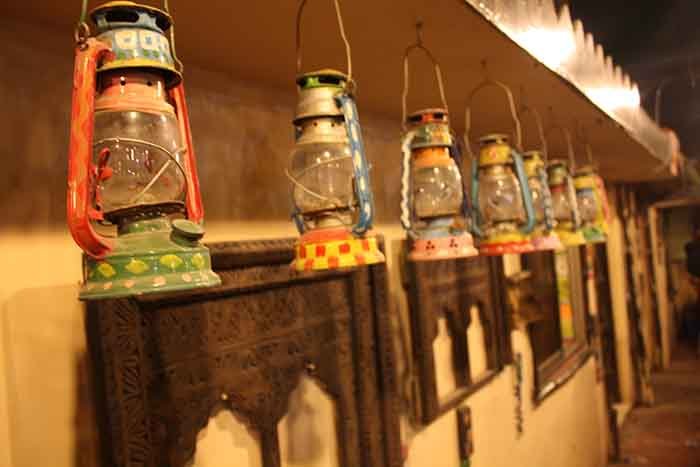 Remember those Punjabi folk tales, where heroin spent a significant part of her daily routine fetching water from wells with a pitcher on her head? Yes, these clay pots shown in the picture are an important daily use item. Seeing them in Panj Vehra is likely to take you back to the world of those folk tales.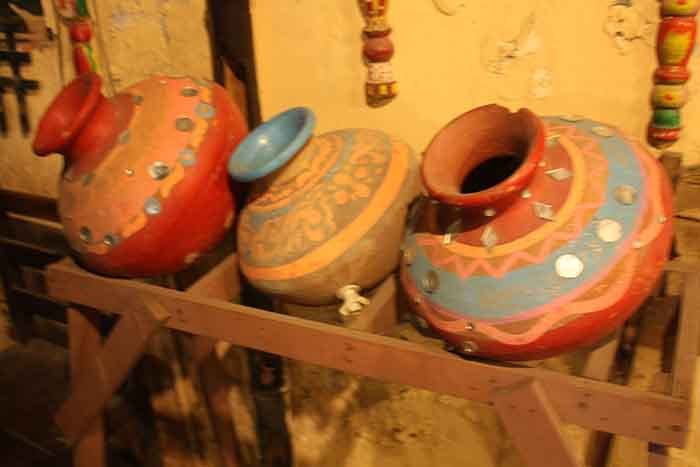 The sight of handmade craft hanging from trees is much-sophisticated experience than graffiti in a modern restaurant.
Panj Vehra offers a complete package for visiting a village then how come the sight of a healthy bull used for plowing the fields could be missing.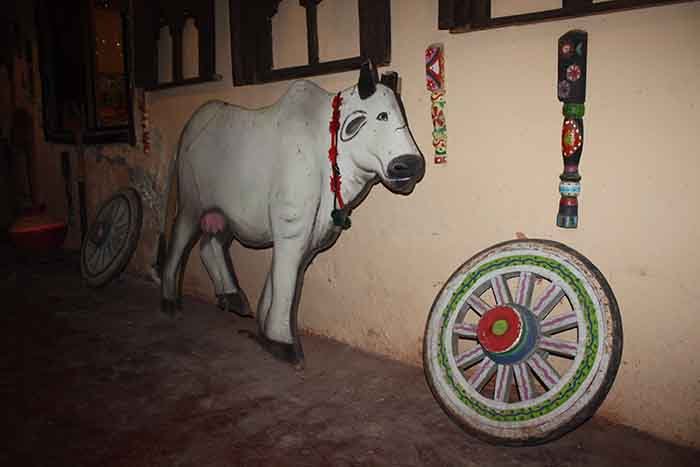 You can sit on chairs as well as charpais; the choice is yours.
Sitting in Vehra (courtyard is not a limitation, it is just an option). You can go inside and eat by sitting on the sides of ground level tables, while natural village scenes still being around you.
The best part is the food. Usually, desi food is said to be much heavy, but chicken parathas that Panj Vehra restaurant offer are tasty as well as easy on the stomach. You can order the soft drinks but choosing for Lassi would be more fun. There is no limited choice of cuisine as it ranges from chicken roast to chicken paratha, chicken cheese paratha, Lebanese Paratha and much more.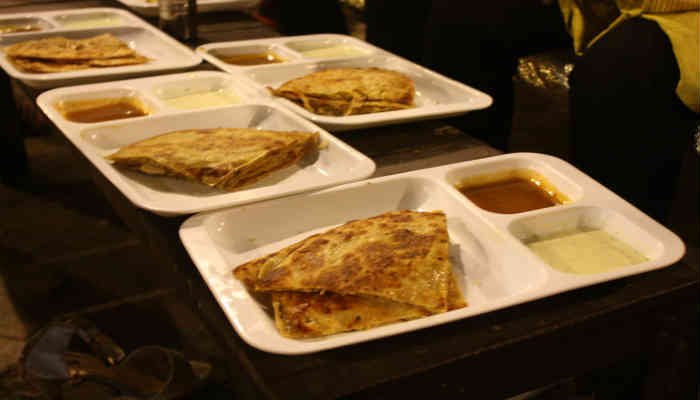 The courtyard desi restaurant that looks like a Dhaba from inner is equally suitable for families, friends, students as it has something to offer for everyone.