Fujiyama is one of the oldest and perhaps the best Japanese restaurant in Lahore. At Avari (Lahore), this restaurant is the perfect experience for anyone who wants to try Japanese food in the city. It's a high-end fancy dine-in, so make sure you dress to impress when you're going to fulfill the appetite for Japanese cuisine.
I am a regular visitor to this restaurant, so I decided to review the place to share my experience with you.
Fujiyama offers authentic seafood, and in my opinion, no other Japanese restaurant in Lahore can compete with them.
The Ambience Is Worth Enjoying
The traditional atmosphere captivates you the moment you step in; however, the bamboo and wood interior blend gives it an authentic Asian look.
The large windows, instead of walls, provides a perfect poolside view and if you want to experience a pure Japanese food marvel, ask them to arrange your seating along with the teppanyaki grill. There, some best chefs will prepare food in front of you.
The Extensive Japanese Menu
Fujiyama's menu is perhaps every Japanese food lover's dream. It has several starters and a wide range of Sushi options. They offer almost every kind of Sushi – Maki rolls, Nigiri as well as Sashimi.
Their main courses mainly consist of Teppanyaki and Teriyaki foods. Teppanyaki is traditional Japanese food, which literally means being pan-fried or cooked on the grill.
The Teriyaki meals are more towards the North-American taste; however, these dishes are found at almost every Japanese restaurant in Lahore. On a side note, the dishes prepared in Teriyaki sauce – mostly Soy Sauce, are known as the Teriyaki meals.
Although you can have other items off the menu, like the Hibachi food, you also have the option to order from a set menu. Fujiyama offers you small set menus which have everything included in it – from your soups, starters, and Sushi to your main courses and desserts as well.
It depends on you, whether you want to order something from a small set of menus or order something off the menu according to your liking.
I shouldn't forget to mention here that Fujiyama is a fancy restaurant, so it has a pretty expensive menu.
The Food and Service
On my recent visit with a friend, we decided to go for the Prawn Tempuras for starters and ordered the California rolls from the Sushi section.
At first, I've got to admit I thought the Prawn Tempura was slightly bland for my taste. However, squeezing a little lemon on top and eating them with the Prawn Tempura sauce made each bite delicious! And don't even get me started on the California Rolls. If you haven't tried Sushi before and want to taste what Sushi is like, I'd suggest trying Fujiyama's Maki California Rolls.
They consist of the prawn fried tempuras wrapped up in seaweed and rice. And there is no doubt about you falling in love with their Sushi!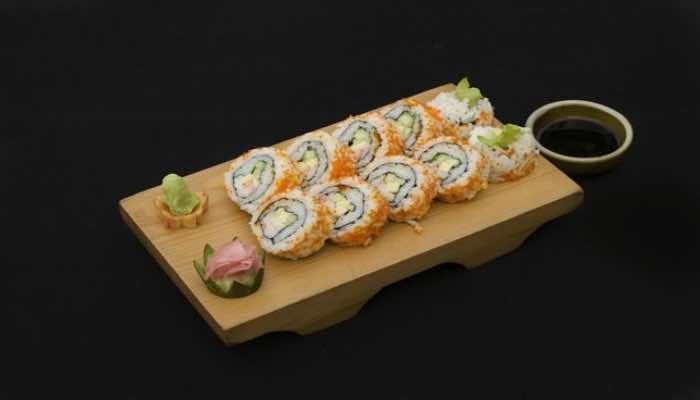 The Sushi, again, was the best I have ever had, Abroad and in Pakistan alike! I have been craving those rolls ever since.
The California Rolls were so soft and highly divine. You will not be disappointed if you order them!
Next up, we sat on the Teppanyaki grill table and decided to make the most out of the Japanese cuisine. Hence, we ordered two different Teppanyaki dishes – Chicken and Beef. Having the Teppanyaki food prepared in front of us was just amusing. The chef personally attended to us and ensured by asking us how we wanted our food before cooking, including spices, garlic, veggies, etc. Not to forget here, he even asked us how we wanted our beef cooked – and we decided to go with medium-well.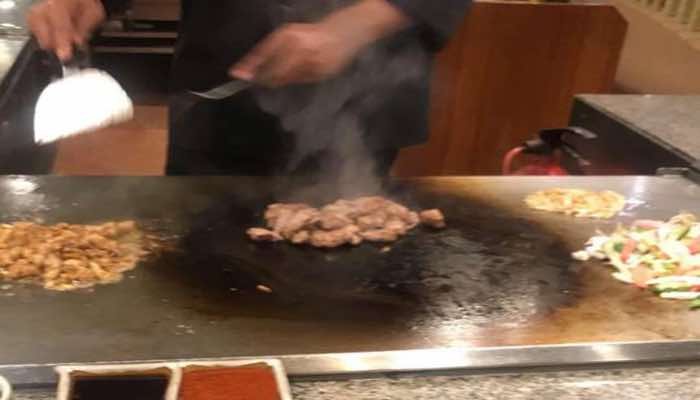 Everything seemed well balanced.
Honestly, I cannot decide which of the Teppanyaki dishes was better. With each bite, I felt like one was better than the other. Both cooked in similar spices and garlic but tasted better than the other. The chicken was perfect, and our beef cooked just the way we wanted it to be. Both these dishes were definitely a thumbs up for us.
Servers made sure to come and ask us from time to time about our food and whether we wanted anything else. I want to mention here that the chef was amiable as well. It's always incredible to see when a restaurant's servers are polite, and they listen to you. It makes customers feel special and definitely gets them to develop a better liking of the place!
Towards the end of our meal, we were so full we couldn't finish our main course, I guess it would have been enough to order either the Prawn Tempuras or Sushi for two people, and then two main courses – two appetizers and two main courses seemed enough for us.
But we couldn't get enough of the fabulous taste and really forced ourselves to eat to our full. Since we didn't have any space for dessert left, we, unfortunately, did not have dessert at Fujiyama this time.
As already mentioned about Fujiyama's menu, our bill swelled quite a lot. In standard restaurants, you might have to pay about Rs. 5000 – 6000 for two appetizers, two main courses, and two soft drinks. However, in Fuji, we ended up paying Rs. 11,000, twice the regular price.
But every bite was worth paying this much.
Related: AMU – A Restaurant Run By A Michelin Star Chef in Lahore
Final Verdict
If you're looking to go out and celebrate a big occasion, then Fujiyama is the best Japanese restaurant in Lahore. It has the best Sushi in town, fantastic food, and an even better ambiance! The only thing that might be an issue is the pricing of the food. However, I would like to end this review by saying it's OK if you pay this much for food delivered to you in the best of its quality!