Lahore has become a city known for its love, with Shawarma giving us loads of options for this Arabian dish. You can find one in almost every street, on a roadside stall, or even you can get hold of it in a fine expensive restaurant like Café Beirut and taste their juicy Lebanese Shawarma.
One of the Lebanese Shawarma restaurants in Lahore is this place that they call Lahore Cafeteria. Right in the heart of the city, on the famous Mall road, this cafeteria lies just opposite the GPO and PTCL headquarter and serves the audience at a budget price.
This inexpensive place is mainly crowded at lunchtime when the area is busy with people from nearby offices, shops, and colleges.
In addition to their traditional desi food, Lahore Cafeteria runs a takeaway facility for Lebanese food in the same building. However, you can also order anything from their selective Lebanese menu, even if you are a dine-in customer.
The two-story sitting area is big enough to house a large group of friends, and it can even hold a gathering.
An old-fashioned 3D style floor, paintings of old Lahore, and legendary singers hanging on the walls resemble this part of the city.
The Quality of Lebanese Food
They feature a Lebanese chef in their promotion, but in the evening, when we landed there, you might end up eating food cooked by a local chef. The Lebanese guy, who has also worked in Lahore in some other restaurants, is only available in the morning.
Their specialty is Arabic Shawarma Platter, but you can also choose from Chicken, Beef, and Shish Tauk Shawarma. It's up to you if you want to top it up with some extra cheese.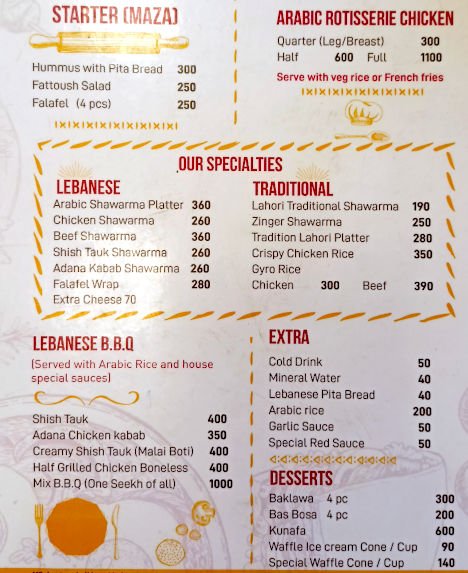 Lahore Cafeteria started this place back in February 2021 with authentic Lebanese flavor, but it didn't go well with Lahoris, who prefer spices above all. Eventually, they experimented with a few things and came up with a gentle spicy format.
The existing menu is a Lahori and Lebanese blend.
It reminds me of the famous Peshawari Karahi that we eat in Lahore is no way near its original taste in KPK.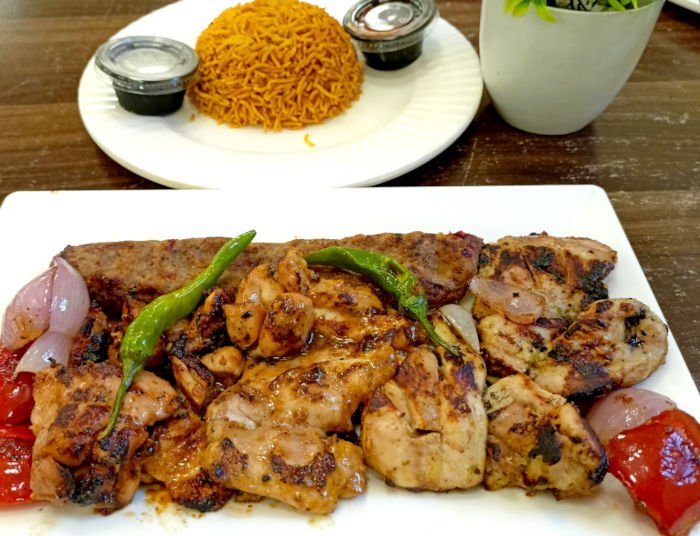 Since the main chef wasn't around, we couldn't ask them to bring the original Lebanese flavor. Instead, we went with Lebanese BBQ – a platter for two people that serves pieces from all four BBQ dishes available on the menu and comes with rice.
You can also ask them to bring hummus and pita bread as the starter. You can also go with fattoush salad or falafel.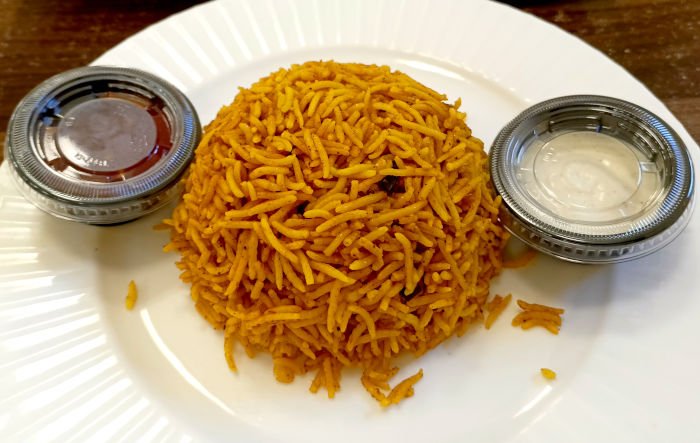 The main course carries 200gm rice (for each person) that is probably cooked in chicken stock and looks like a closer version of our traditional chicken pulao.
Although juicy and tasty, the modified and localized taste of BBQ makes it hard for us to label it as a true Lahori or a real Lebanese. You also get garlic sauce and a chilly garlic sauce along with the food.
It could have been much better if they served it on a hot plate to avoid getting cool down too early before we finished our food.
For desserts, you can sweeten your testes with Baklawa, Bas Bosa – probably basbousa they meant which originates from Turkey – and Kunafa. But don't expect them to be closer to the original desserts.
Firstly, it's not a Lebanese restaurant altogether, not even the Lebanese shawarma. It's an excellent effort to bring down the prices a bit and serve a bit modified Lebanese food in Lahore to cater to a larger audience. However, we still expect them to make an extra effort to keep their food warm and fresh as Lahoris don't want to compromise on quality.